Towelling Cool / Hyrdo Coat - Dual Purpose cool and dry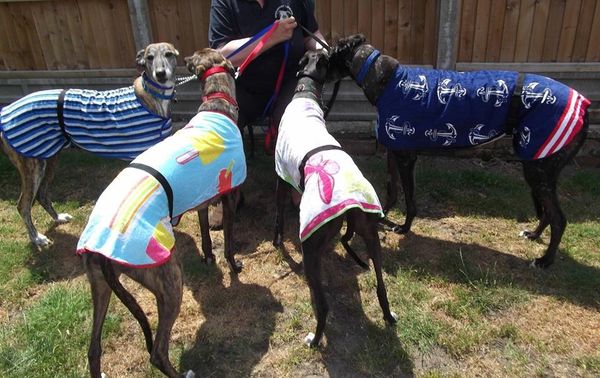 Towelling Cool / Hyrdo Coat - Dual Purpose cool and dry
The Forest Fleece 'Cool' Coat is made from a single layer of soft terry towelling, 
With an adjustable belt to get the perfect fit
These are designed to be used at shows/picnics/events etc, when you are out for the day with your dog.  Keep your dog in shaded areas, and use the coat to help keep cool when resting, before competing etc.  
Simply wet / soak with cool water and ring out before placing on your dog and you will see it take effect almost immediately. This is because, as the towelling dries, the evaporating water 'wicks away' the heat from your dog's body.
Do not let the coat dry out and ensure you keep the towelling coat cool and wet with water by pouring cool water or soaking in cool water
USE COOL WATER ONLY  (Not Freezing/ Ice Cold Water)

Useful for all breeds, but especially important for Sighthounds, Staffies, Pugs etc, who are known to have difficulty in regulating their body temperature.

Be the coolest dog in town 
WHEN THE WEATHER IS VERY HOT AND SUNNY IN THE UK , COATS WILL BE DISPATCHED WITHIN 4 DAYS
Also doubles as a drying coat, idea for use with Hydrotherapy, and wet walks
Note: These are not an aid for walking your dog in hot weather, they are designed for resting dogs in hot weather when out and about, indoors etc where there is shade and breeze.  They can be used as an aid if your dog is suffering from heat stoke but you must consult a vet if you think your dog is suffering from this.
Reviews