Snuggle Wrap Dog Beds - Sherpa / Faux Fur Lined - Super Soft Cuddle Fleece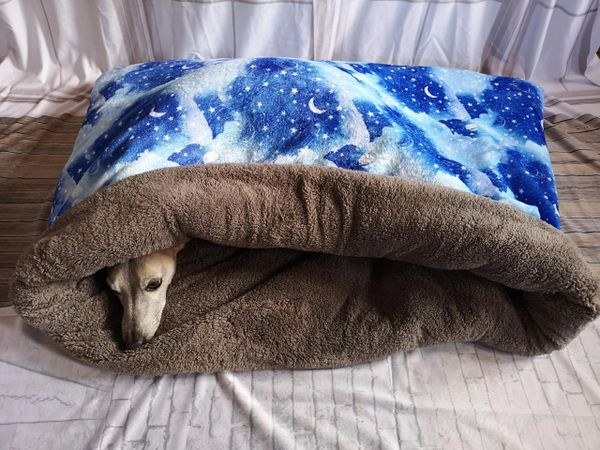 Snuggle Wrap Dog Beds - Sherpa / Faux Fur Lined - Super Soft Cuddle Fleece
The Snuggle Wrap Dog Bed is made with your choice of fleece colour / pattern outside along with your preference of interior lining
New Thicker 14oz Wadding sewn in
Made to Order in the UK
Ideal for dogs to snuggle inside as the wraps are filled with wadding the bed holds it shape and allows the dog to get in and out unaided.
Comes with Free Pillow for your dog to rest on, or help keep the bed open
Create a safe space when your dog needs time out or wants to feel secure from loud noises (ie, fireworks, thunderstorms)

Perfect for snuggling into on a cold night, or for those who just like something to cuddle, these items equal doggy heaven.
Comes with a free pillow, which can help keep the bed open for easy access or for your dog to rest their head on.
These snuggle wrap beds are ideal because you can sleep easy knowing your pet is warm and happy in their durable, snuggly bed.

The Snuggle bed wraps your dog for a truly snuggletastic sleep.. woofderful dreams guaranteed!!!

Washable on a low heat 30 degrees, dry naturally but DO NOT tumble dry alternatively steam clean.

Guide only as depends on actual size of your dog if in doubt always order the bigger size
Small -  Terriers/Dachshunds/JRT, Toy dogs etc
Medium - Whippets, Lurchers, Spaniels, Staffys etc
Large - Greyhounds, labradors, or 2 dogs etc
Reviews